"There are some places that are so unique, authentic and genuine,
where we like to settle, to feel like being at home.
The Cambon is one of them, a Haussmannian house elegantly performing its new composition!"
WELCOME TO OUR HAUSSMANNIAN HOUSE
Having completed a vast programme of renovation, the Hotel Cambon invites you to enter a reinvented 19th century.

A true rebirth offering you an intimate place to stay, a short walk from the Concorde, the Louvre, the Tuileries Garden and Place Vendôme, and a few doors down from the famous Maison Chanel.

An ideal environment for lovers of Paris and this historic quarter, highly prized by art and fashion enthusiasts.
Hotel not accessible to people with reduced mobility

OUR 36 ROOMS
The seven floors of the Cambon Paris have been entirely restructured and renovated, inviting you on a journey through the artistic and literary world of the 19th century. For the hotel reveals itself floor by floor with a tastefully cultivated romantic spirit and delicate colours.
Seven floors, for the seven famous figures who lived on Rue Cambon and went down in history, from France's Consulate period to the Second Empire. Empress Eugénie, Chateaubriand, Stendhal… they were all an inspiration to us when decorating the rooms and redesigning them to feel like a guest room in a private home, offering only the very best.
Step inside and be carried away by the beauty of the mouldings, the warmth of the oakflooring; run your hand over the furniture's pure lines, tracing its curves with your hand, and feel the soft light flooding in; open up to a sweet romantic reverie while contemplating the floral motifs and idyllic little country scenes that unfold around you.
Here, there is no desire to show off, just a focus on materials, design, well-being, and know-how that makes each room a restful haven.
A cocoon where each vintage object and each painting from our collection naturally finds its place. Where lamps in the purest of blown glass seem to float in the air, echoing the solar discs which diffuse their precious halo of light with infinite softness when night falls.
A cosy, perfectly soundproofed nest, ideal for a revitalising break, whose atmosphere extends beyond each room into a bright, streamlined bathroom.
A graceful and poetic invitation to unwind.

BREAKFAST
We take particular care over our gourmet buffet breakfast, offering you fresh, organic and gluten-free products from quality suppliers.
Find out more
ROOM SERVICE & LOUNGE BAR
We select quality dishes for you in partnership with "Flottes", a renowned Parisian brasserie located opposite the hotel.
Our bar , A plush and cosy place to enjoy a drink, perhaps a "signature cocktail", between 11am and 10pm.
Find out more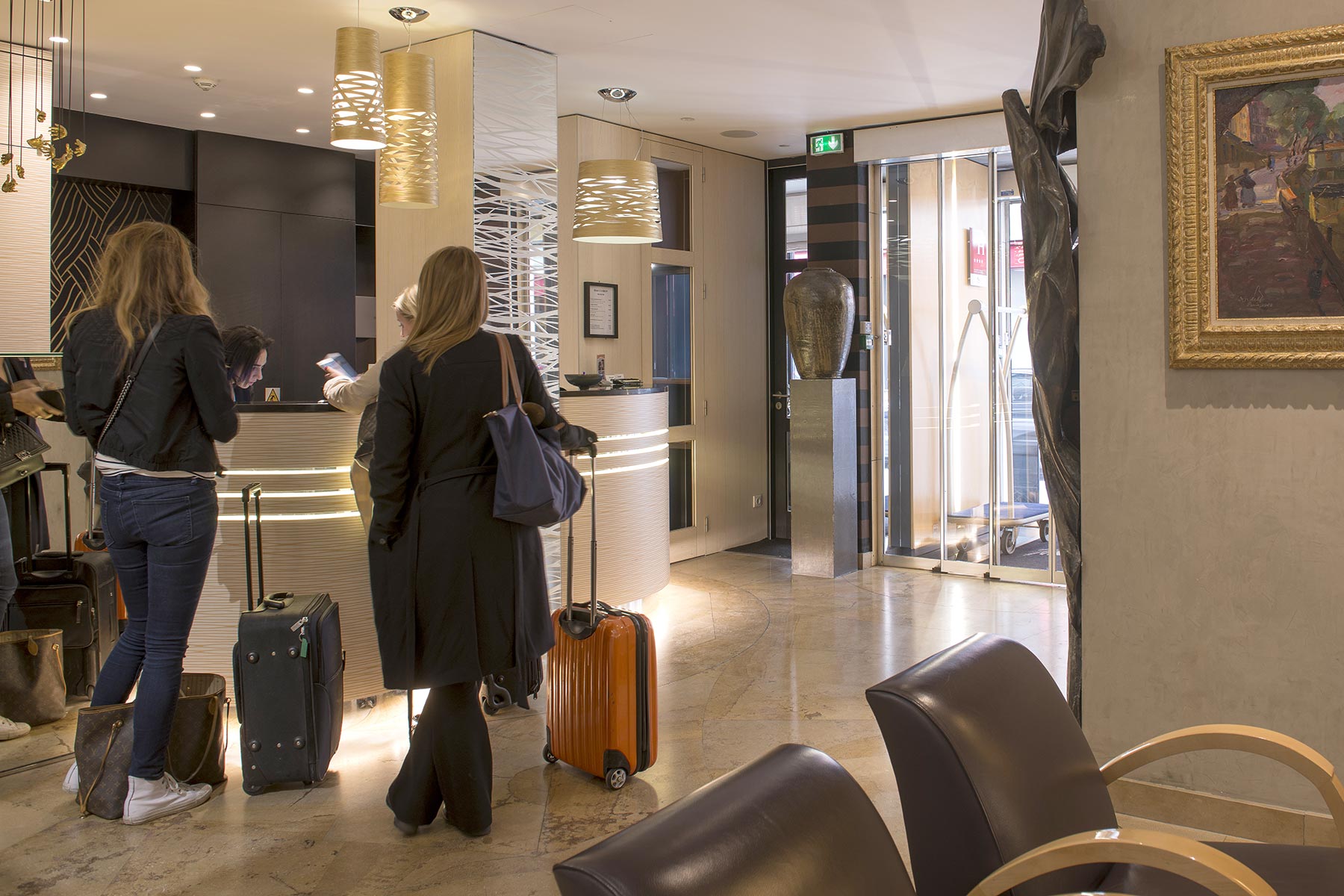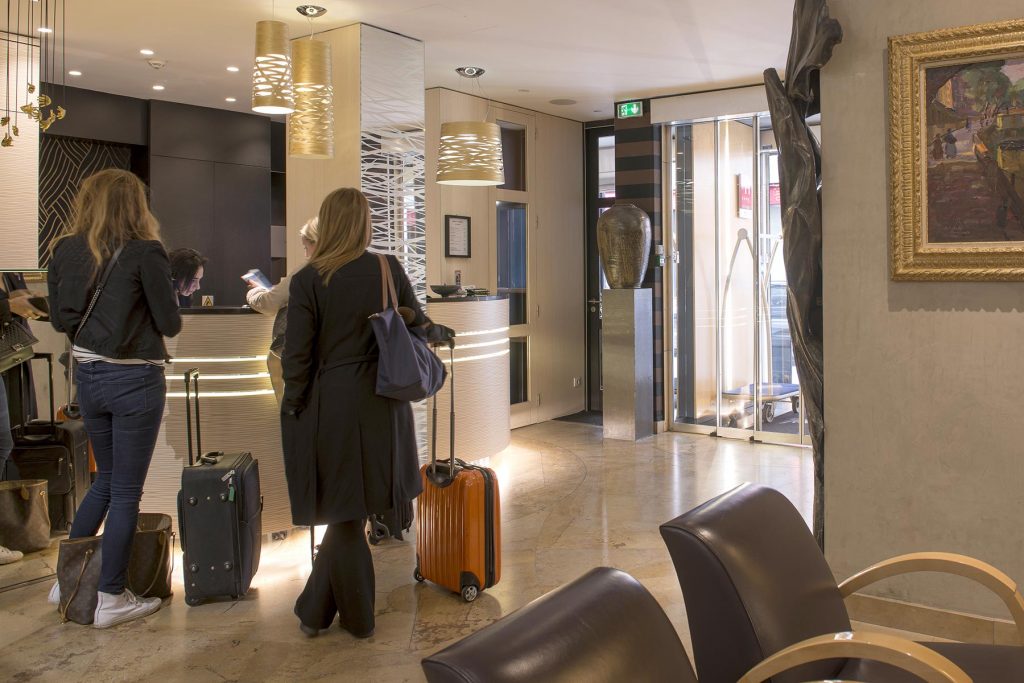 LUGGAGE ROOM
You can leave your luggage free of charge at the Cambon, before check-in and for a few hours after check-out, if you would like to enjoy the delights of Paris or attend your business meetings without being weighed down. Your luggage will be stored in a secure room.
We also have an area where you can change and freshen up before you leave.
CONCIERGERIE
We will be happy to answer any requests and help you plan activities during your stay, such as booking shows, concerts and restaurants.
Your travel: airport transfers, excursions outside of Paris, transfers to exhibition venues.
If you want to treat yourself or a loved one, our team can arrange bouquets of flowers, champagne, chocolate, massages, or any other request.
Contact our team by e-mail at info@hotelcambon.com
or by calling +33 1 44 58 93 93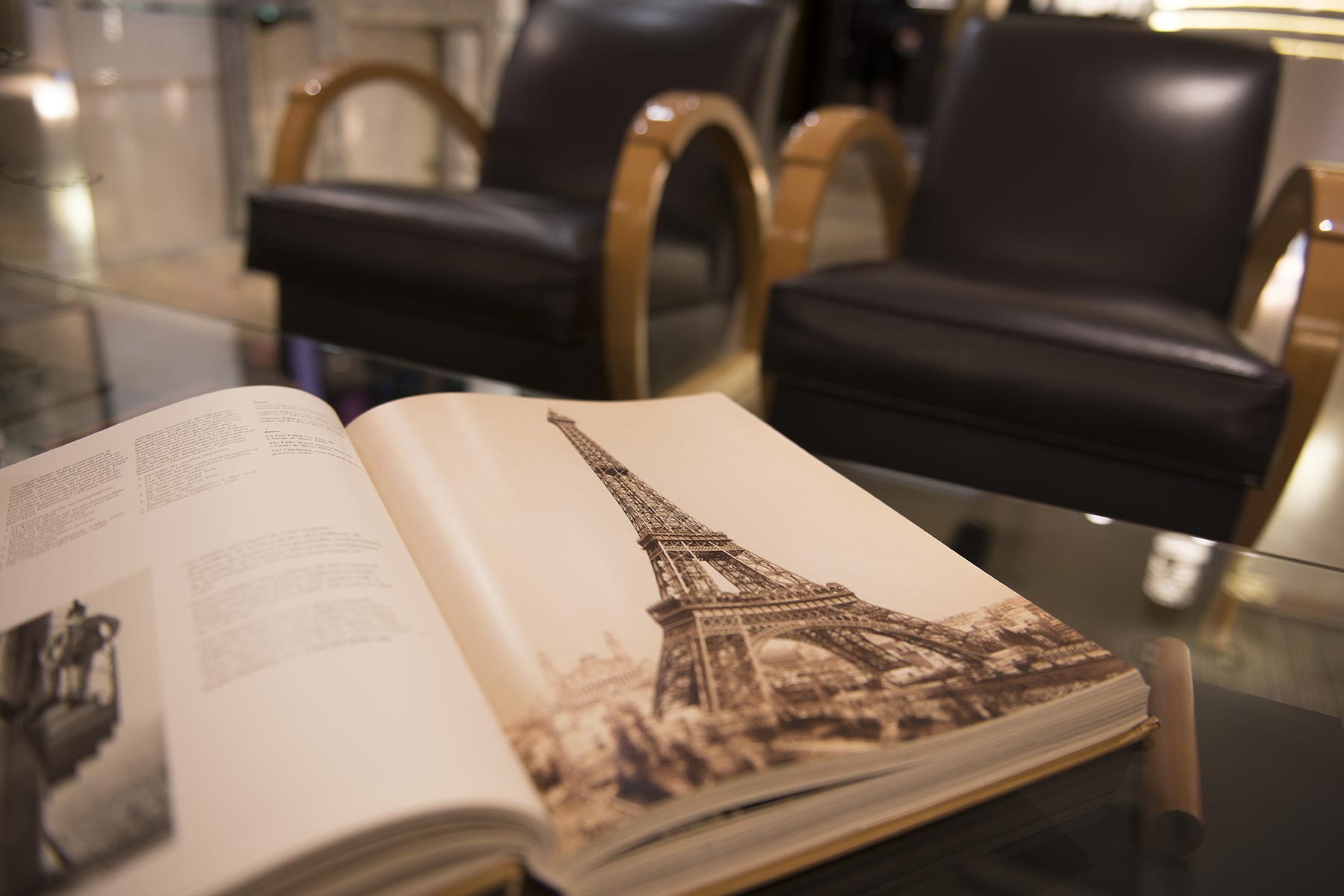 GREEN-ATTITUDE
At the Cambon, we care about the environment and are convinced that it is possible to offer high-quality services while taking an eco-friendly approach.
All of our employees share this commitment.
Find out more